Bio-IT World – Best Practices Award
25th May 2017 – Boston, MA
http://www.bio-itworld.com/2017/05/25/bio-it-world-announces-2017-best-practices-awards-winners.aspx
Improving Global Food Security and Sustainability By Applying High-Performance Computing To Unlock The Complex Bread Wheat Genome
Using the SGI UV systems specified, procured and supported by CiS, and the integration of Edico Dragen, the Earlham Institute has won the Bio-IT Best Practices award for IT infrastructure/HPC for their novel approach to mapping the wheat genome.  The award was received by Tim Stitt (on behalf of the Earlham Institute) and Paul Fretter (on behalf of CiS) at the awards ceremony in Boston MA.
Pictured: Paul Fretter (CiS), Allison Proffitt (Bio-IT), Tim Stitt (Earlham Institute) and Chris Davidson (HPE/SGI)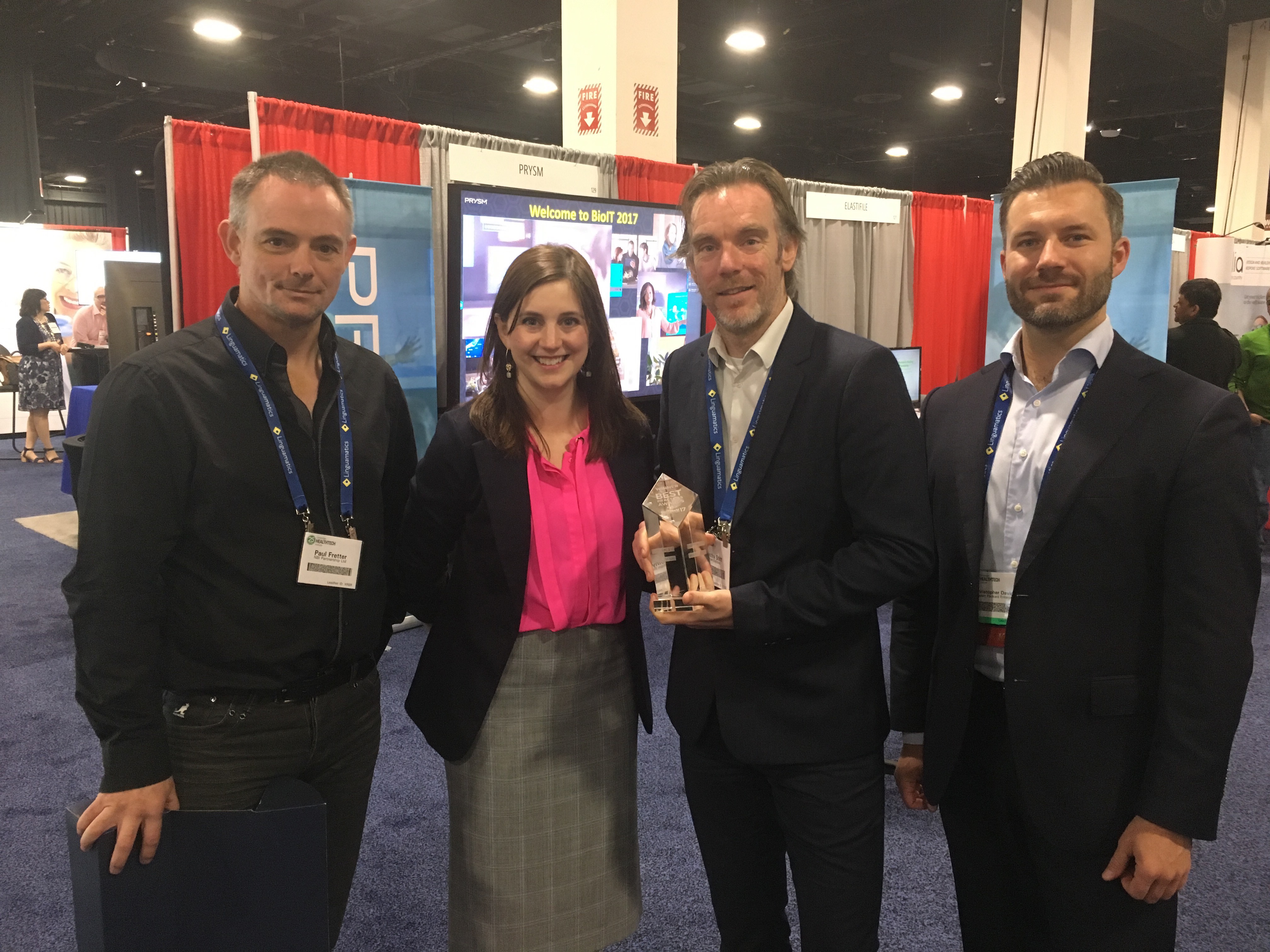 CiS first recommended and procured the SGI UV systems for Earlham (then TGAC) in 2010-11 and the team has continually developed the service for our customers (EI researchers) to use.   CiS staff who deserve a specific mention for their significant technical contributions are Chris Bridson and Sam Gallop.
HPCWire Award
16th November 2016 – Salt lake City, Utah
Using the SGI UV300 systems specified, procured and supported by CiS, the Earlham Institute has been award the HPCwire 2016 Best use of HPC Application in Life Science Editor's Choice Award for using an SGI UV 300 for analysing the highly-complex wheat genome – SGI's largest UV instance for life sciences.
https://www.hpcwire.com/2016-hpcwire-readers-choice-awards/
Pictured: Tim Stitt (Earlham Institute), Paul Fretter (CiS) and Chris Bridson (CiS) pictured with Tom Tabor (HPCWire) presenting the award at the Supercomputing 2016 (SC16) Conference, Salt Lake City, Utah

Optical Processing – Bioscience and Industry UK collaboration to significantly reduce HPC energy consumption
19th February 2015
The Genome Analysis Centre (TGAC) and high performance computing (HPC) hardware provider Optalysys Ltd have joined forces to develop and implement a revolutionary optical processing device that will perform large-scale DNA sequence searches for crucial genomic research with energy savings of over 95% per year. The new Genetic Search System (GENESYS) has been granted £0.5 million in funding from the government partner Innovate UK.
Read the press release.
GCC2015 – The 2015 Galaxy Community Conference (GCC2015) will be held at the The Sainsbury Laboratory, in Norwich, UK, 6-8th July, 2015
Galaxy Community Conferences are an opportunity to participate in presentations, discussions, poster sessions, lightning talks and birds-of-a-feather gatherings, all about high-throughput biology and the tools that support it.
The conference also includes a Training Day offering in-depth topic coverage, across several concurrent sessions.
For more information please visit the GCC2015 website at gcc2015.tsl.ac.uk